Normalizing handwashing and increasing income during COVID-19
May 25, 2021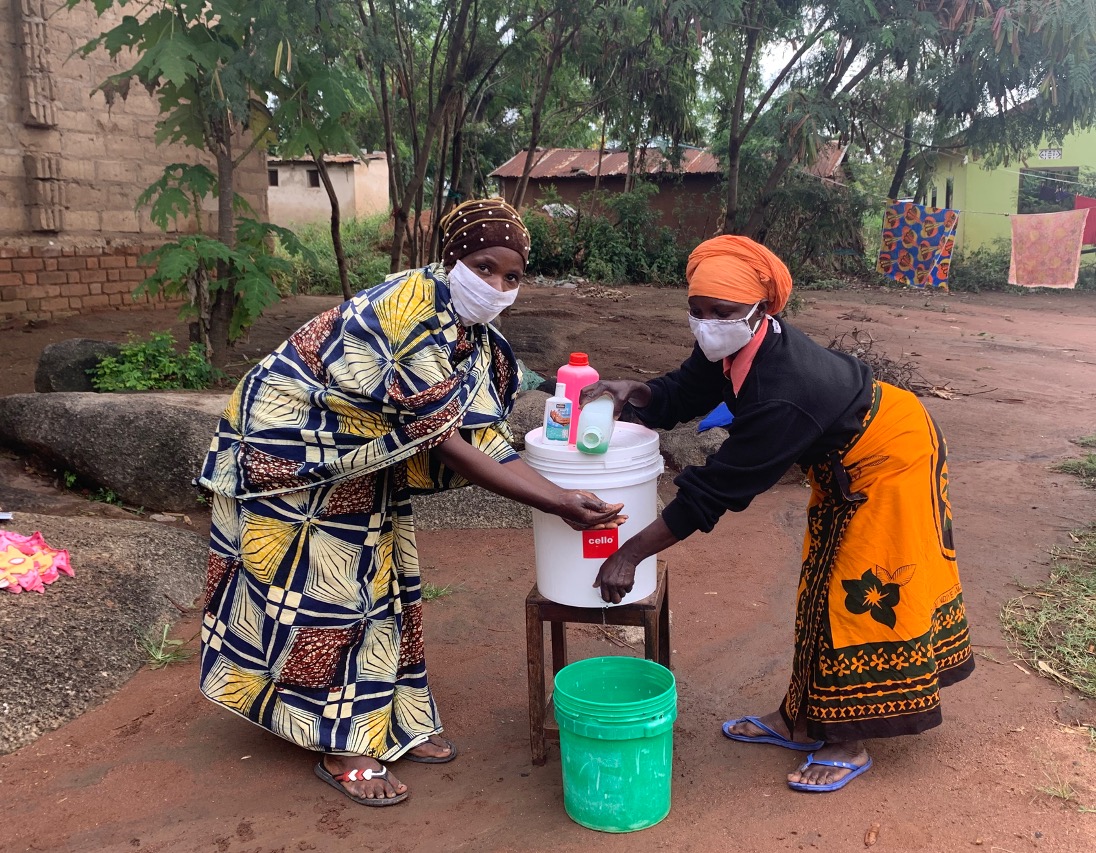 Yustina Elias (L) and Rose Mussa spotted washing their hands with liquid soap made by Pilikapilika group- the photo was taken at group office located at Ibanda ya Juu street, Ilemela municipal council, Mwanza.
Handwashing with soap and running water is an effective hygiene practice to prevent the spread of COVID-19 and other communicable diseases. However, in many communities in Tanzania, not everyone can access or afford high quality liquid soap. To address this gap, NPI EXPAND is managing a grants program that supports three new and underutilized local NGOs to engage village savings and loans groups, dubbed WORTH Yetu groups, to produce and sell liquid soap and non-medical masks. The groups also implement risk communication and community engagement (RCCE) activities to increase uptake of public health measures, like handwashing and mask wearing, and prevent the spread of COVID-19.
In Mwanza, the NGO Mwanza Outreach Care and Support Organization (MOCSO) supported 10 Worth Yetu groups, including Pilikapilika. According to Sabina Mkwega, Pilikapilika chairperson, before their engagement with the project, her group was participating in several income-generating activities, including buying different goods, such as fish, charcoal, clothes, and soap, at wholesale prices and selling them to community members.  Most community members at Ilemela municipal,  where the Pilikapilika group is based, were buying bar soaps for bathing, laundry, and dishwashing. Liquid soap was not preferred as it was considered to be expensive. Hence it was not among the common products that were bought wholesale by the group.
To increase availability of affordable liquid soap for handwashing, MOCSO helped to equip Pilikapilika and other WORTH Yetu groups members with skills and materials to produce and sell locally produced liquid soap. MOCSO collaborated with Small Industries Development Organization (SIDO) Mwanza branch to train 20 group members (15 females, 5 males) on liquid soap production. In turn, the participants cascaded the training to all group members.
Soon after the training, MOSCO supplied the Pilikapilika group with capital equipment and materials obtained at SIDO for soap making. Pilikapilika group members immediately started production. The group realized the instant and high demand for the locally produced liquid soap, which led to their soap business flourishing. This triggered the group members to increase production to meet the demand. It was November 2020 when Pilikapilika started producing and selling liquid soap and by March 2020, the group had already produced and sold a total of 300 liters. According to Pilikapilika group members, the frequent messages on handwashing with soap as a measure to prevent COVID-19 has helped to increase the sales of their liquid soap as many more people are now adhering to the handwashing practices than before. When asked what makes the community members like Pilikapilika liquid soap, Tabia Protas, who is a group secretary, responded that people are saying it is affordable and it has good quality compared to other liquid soap they have experienced. It also smells nice.
Under the NPI EXPAND COVID-19 grant, MOCSO has supported a total of 10 Worth Groups with skills and resources to produce liquid soap and cloth face masks. The groups are based in the Mwanza region in four councils of Mwanza city, Ilemela municipal, Magu district and Misungwi district. Francis Shakanyi, who is the MOCSO Program Manager said, "Through this project (NPI EXPAND) the WORTH Yetu groups have accessed alternative business opportunities and increased the incomes of the groups and the individual members through the sale of liquid soap and face masks". From November 2020 to March 2021 these 10 groups have cumulatively produced a total of 2,744 liters of liquid soap and sold 2,187 liters. The groups have also made 579 face masks. Using the income generated from the business the groups are planning to sustain and scale up the soap and face mask business and support the WORTH Yetu group members even after the life of the project.